Books Store
Patrick's Money Back Guarantee
Patrick believes you'll receive so much value from his books
that he is offering you a 100% money-back guarantee.
The Insider's Guide to Renovating for Profit
Full of proven tips and tactics for finding, buying and renovating residential investment properties for impressive profits. Contains a step-by-step system to show you how to add the maximum value, using the least amount of money, in the shortest possible time. It includes:
The renovation profit formula and why it's critical to your success
Selecting the correct property to renovate for maximum return
Real case studies of successful property renovations
Over 50 ways to increase value without spending much money
How to avoid the 7 biggest mistakes made by renovators
Only AU$30 (free delivery)
Table of Contents
Step 1: Understand the renovation profit formula - case study: A valuable garage
Step 2: Work out how much you can afford - case study: A family friendly approach
Step 3: Target the right property type- case study: From average to standout
Step 4: Market research and preparation - case study: Raising the bar
Step 5: Select the right property to buy - case study: Adding value for a quick sale
Step 6: Pay the right price - case study: Making the most of a small budget
Step 7: Get the work done on time and budget - case study a 'do it for me' renovation
Renovating the outside - case study: Enjoy the view
Renovating the kitchen and bathroom - case study: Capturing the light
Renovating the inside - case study: Value adding for sale time
Miscellaneous renovation tips
The top 6 profit-killing mistakes to avoid
Where to from here?
The Insider's Guide to Buying Real Estate - 3rd Edition
A step-by-step guide to help you find, negotiate and buy property for less. Contains detailed examples, great tips and strategies, giving you the tools and techniques to take control in the purchasing situation. You will find out how to: 
Quickly sift through the whole marketplace to pinpoint quality property
Determine the real market value of a property so you don't pay more than it's worth
Negotiate the lowest possible purchase price
Avoid the 11 common mistakes when buying property
First home buyers – learn how to get into the market quicker for less money.
Only AU$30 (free delivery)
Table of Contents
Chapter 1: Buy your home for less
Chapter 2: Don't pay retail
Chapter 3: Saving a deposit
Chapter 4: Getting started
Chapter 5: Easy ways to select your property
Chapter 6: Working out a property's fair market value
Chapter 7: Fast track your super search
Chapter 8: Simple steps to qualify property fast
Chapter 9: Preparing to buy
Chapter 10: Understanding the 6 most common ways property is sold
Chapter 11: The art of real estate negotiation
Chapter 12: 9 negotiation secrets real estate agents don't want you to know
Chapter 13: 11 mistakes to avoid when buying your next home or investment property
Chapter 14: Advice for first home buyers
Chapter 15: 4 rules for first home buyers
Chapter 16: How to choose a selling agent to sell your home
Chapter 17: Find your next property quickly and easily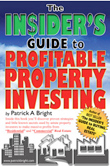 The Insider's Guide to Profitable Property Investing 
Packed with practical, profit generating strategies from an astute property investor and industry insider. With detailed examples, tips and strategies, it gives you the essential tools and techniques to build a profitable property portfolio. You'll discover how to: 
Identify future demand locations, maximise capital growth
Use bank finance for personal gain
Identify above average performing investment properties
Buy residential and commercial property below market value
Create a six figure retirement income
Structure your financial affairs for maximum asset protection
Renovate investment property for profit
Avoid the mistakes most property investors make
Add value to commercial and industrial property
Negotiate effectively with selling agents
Only AU$30 (free delivery)
Table of Contents
Keys to profitable property investment
1. Why invest?
2. The magic of compound growth
3. Leverage - using the bank's money
4. 8 reasons why property is the smartest investment
5. Different types of property to invest in
Residential investment
6. Strategies for making money with residential property
7. 12 rules for choosing the right investment property
8. Where to buy
9. What to buy
10. Finance
11. Doing the numbers
12. Getting a good deal
13. Structure- protecting your assets
14. Property management
15. Renovating your investment property for profit
16. Tax - getting it back
17. How to avoid the 6 common risks of residential property investment
Commercial and industrial property investment
18. Commercial and industrial property
19. What to buy and who to lease it to
20. Negotiating to lease and buy commercial property
21. Adding value to commercial and industrial property
22. Managing the top 4 risks of commercial and industrial property investment
23. Find your next property quickly and easily
The Insider's Guide to Saving Thousands at Auction
Exposes real estate selling agents' deceptive tricks and shares the proven strategies, techniques and tactics needed to buy auctioned property at the right price.  Inside this book you'll discover how to: 
Use negotiation strategies to gain the upper hand
Structure offers to buy before auction
Avoid the psychological traps that lead buyers to pay too much
Set a maximum bid price and stick to it
Save thousands using proven bidding techniques
Avoid the expensive mistakes most buyers make
Combat selling agents' deceptive methods and tricks
Spot dummy bidders and deal with them 
Only AU$30 (free delivery)
Table of Contents
Chapter 1: Property auction glossary
Chapter 2: Understanding the auction process
Chapter 3: The psychology of auctions
Chapter 4: Auction pros and cons
Chapter 5: Selling agents' auction tricks
Chapter 6: How to work out your walk-away price
Chapter 7: Auction preparation
Chapter 8: Pre-auction offers
Chapter 9: Bidding tactics
Chapter 10: What to do when the property is passed in
Chapter 11: How to find your next property quickly and easily
Consultation Form
Free Consultation
Fill in the form to talk to us about your property buying goals. Genuine help given. No obligation.
We'll get in touch to arrange a time to speak via phone.
We respect your privacy.
Patrick Bright's Blog
Thoughts, findings and tips regarding the property market.